Greetings neighbors,
On November 12, 2014, Arlington Heights Civic Association held its annual elections for Executive Committee members. Please join me in congratulating our 2015 officers:
President: Stephen Hughes
1st Vice President: Jeanne Haggerty
2nd Vice President: Jonathan "Jay" Moore
Treasurer: Scott Winn
Secretary: Maureen Critchley
Thank you so much to Stephen and Maureen for stepping up to support our neighborhood as new incoming officers.
Thank you to Jeanne, Jay and Scott for their willingness to serve a third term. Many thanks for your tireless efforts on behalf of our community. It has been a pleasure and an honor to work with all of you.
I would also like to take a moment to thank our wonderful out-going secretary, Megan Haydasz. Her dedication to AHCA and commitment to our neighborhood is inspiring. Thank you so much, Megan. You will be greatly missed.
Best wishes to Executive Committee members past and present.
Sincerely,
Stacey Whyte
Past-President
Arlington Heights Civic Association
---
At Arlington Heights Civic Association's SPECIAL MEMBERSHIP MEETING
with Arlington Public Schools

Thursday, May 29, 7 PM to 9 PM

Patrick Henry Elementary School Gymnasium

AHCA adopted this resolution:

"Arlington Heights Civic Association is opposed to the Arlington County School Board moving forward on siting schools within our neighborhood without more direct engagement, collaboration and consideration of our concerns. (We reserve the right to support or oppose both projects until more direct engagement is begun.) If that requires delaying a vote by the Board on the proposed sites on June 17, we would ask the School Board to do so. While we do have concerns about siting, we do support more elementary school seats being built in South Arlington."
A letter from the president:
Greetings neighbors,
Many thanks to those of you who attended the special meeting regarding the Arlington Public Schools (APS) potential plans within Arlington Heights. Members of the AHCA Executive Committee held a follow up meeting over this weekend to discuss next steps and I will share that information with you. Eric and Juliet have posted fairly comprehensive recaps of the meeting on this list so I will not repeat their efforts. I would add a few items before discussing next steps.
1 - When the AHCA pursued and scheduled the meeting held last week, we requested a presentation specifically about the proposals for the entire site that currently houses the Career Center, the library, the Fenwick Center and Patrick Henry, as well as information regarding any proposed new school building anywhere on the grounds surrounding Thomas Jefferson Middle School. We specifically requested drawings and details of the various options APS is considering for the aforementioned sites. While understanding that plans can evolve, we wanted our residents to at least have a starting point for our discussion of these proposed projects. How can we discuss changes which could have such a dramatic impact upon our neighborhood without first knowing what the possibilities may be? Unfortunately, directly before our meeting, we were told that APS had changed their minds and would not be sharing any drawings of possible plans regarding the Thomas Jefferson site. And yet, the School Board intends to vote on whether or not to pursue the Thomas Jefferson site on June 17 just over 30 days from the first time it was ever publicly announced as a possibility. If the APS School Board is committed, as they say they are, to an open process of public engagement regarding the CIP, I hope they will take the time now to share all of the information with our neighborhood and allow for an educated discussion with our community surrounding the issues before they make any decisions.
2 - Unfortunately, at the meeting last week we were unable to get to the discussion regarding the Career Center site. Those plans are actually posted on the APS website and I encourage you to review them yourselves. The link is: http://www.apsva.us/cms/lib2/VA01000586/Centricity/Domain/110/031214%20CIP%20Feasibility%20Studies.pdf and the section on the Career Center site plans begins on p. 64 and runs though p.69.
3 - At the AHCA Special Meeting members of our Civic Association passed the following motion which we will share with the APS Superintendent and the School Board prior to their meeting this Thursday. (See box above)
4 - As those who attended the AHCA Special Meeting know, different residents are coming at the TJ site issue with different perspectives and different priorities.
We have limited information of the proposed plans for a new elementary school on the grounds surrounding Thomas Jefferson, so as previously mentioned it is difficult to discuss this issue at the moment in any knowledgeable way, but I would like to pose the following questions for your consideration. (Please note - I am not asking you to respond to the following questions on this listserv - I just want you to be aware of some of the questions your neighbors are already asking. The AHCA does not have the ability to answer these questions for our residents without more information.)
Would you support the building of a new elementary school on the grounds surrounding Thomas Jefferson Middle School?
What factors would influence your position? The loss of green space from our existing park land at that location? Would it be alright to build there if APS found a way to build only on existing concrete/asphalt areas like the 2nd street parking lot areas? Would you still have concerns about the location even if there was no loss of green space and would your concerns be related to parking and traffic? What if there was a way to mitigate parking and traffic concerns? What if APS built a new elementary school on existing green space but still found a way two preserve two full playing fields and the full length of existing track - though repositioned? What if we lose green space at TJ but there is no net loss to neighborhood green space due to the adding of green space at a redeveloped Career Center site as seen in drawings from the link posted above? Would it matter if the new school built at TJ is a bigger, better Patrick Henry for our own neighborhood students and a multi-story "choice" (like Montessori, Spanish immersion, etc.) school is built on the old Henry site to help increase the availability of South Arlington elementary seats? If you do not support plans to build at TJ at all, what solutions would you support in order to provide more seats for our students?
The list could go on, but you get the idea. There are so many questions in need of answers and these are the discussions we should be having in partnership with the APS School Board before they make any kind of decision to move forward.
5 - Next Steps and What can you do?
- The AHCA Executive Committee will provide a letter to the APS School Board and Superintendent on Tuesday sharing the statement voted on by our AHCA members and outlining our request for immediate direct engagement by the APS on the TJ and Career Center sites. We will also make a statement at the School Board meeting on Thursday night.
- Please contact the School Board members and share your concerns:
School Board Office: 703-228-6015
E-mail: Sally.Baird@apsva.us
E-mail: James.Lander@apsva.us
E-mail: Abby.Raphael@apsva.us
E-mail: Noah.Simon@apsva.us
E-Mail: Emma.Violand@apsva.us
- We encourage every resident concerned about this issue to attend the School Board Meeting this Thursday, June 5 and to sign up in advance to speak. If APS does not hear from each of you they may assume our community has no real concerns. While you are entitled to share whatever opinion you may hold regarding the CIP process and the individual projects, I ask you to keep in mind that the official AHCA position, as voted on by our members, is a request for more information and more time in which to review the materials before the neighborhood reaches any conclusions. Please sign up to speak at: www.apsva.us/schoolboard/speak
Citizens may sign up electronically to speak at this meeting until 4:00 p.m. on Wednesday, June 4.
Speakers also may sign up on the night of the meeting by filling out and submitting a Request to Speak form to the Clerk before the desired agenda item is announced by the Chair. Request to Speak forms will be available outside the Board room on the night of the meeting.
As always, I am happy to speak with anyone in the neighborhood regarding this or any other issue. Thank you all for your concern for and commitment to our wonderful neighborhood.
Sincerely,
Stacey Whyte, President
Arlington Heights Civic Association
703-271-2681
---
---
Click the map of TJ property below to view a larger map.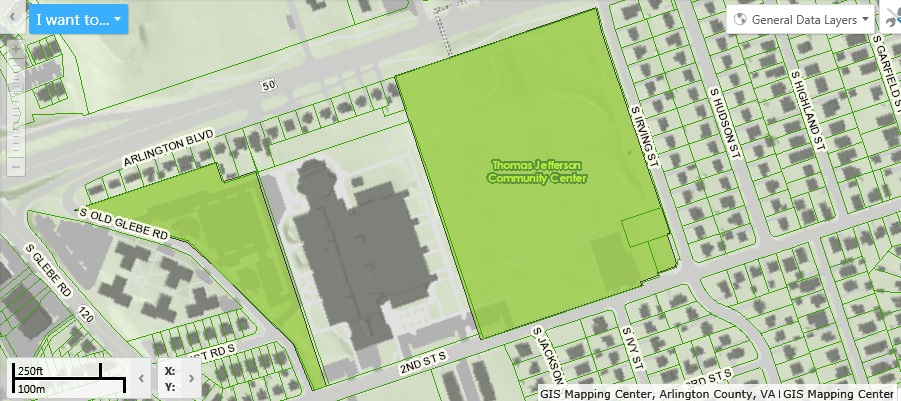 Green areas are owned by Arlington County Board. School area is owned by Arlington Public Schools.
---
Click the map of Patrick Henry Elementary School / Career Center property below to view a larger map.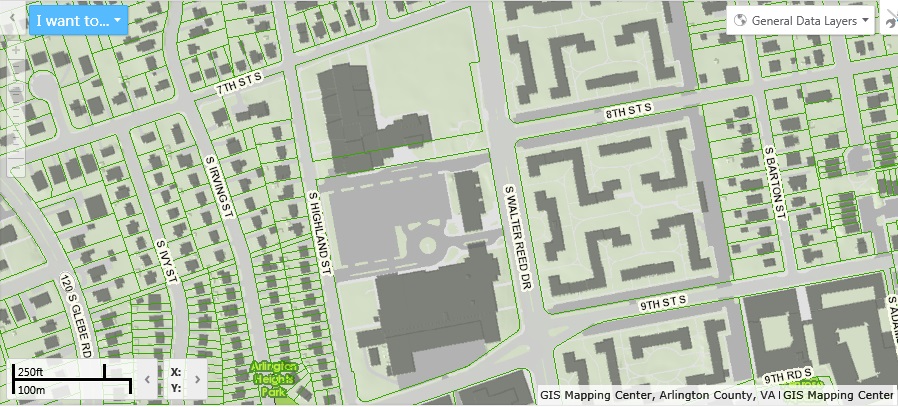 ---
To re-create these maps, open Arlington County Maps, select Parcel Search, and search for Parcel ID 24011037 or 25014010
---
Hi neighbors!
We're looking for volunteers to show their gardens during the annual Arlington Heights Garden Tour. This year's tour will be held on Saturday, June 7. We usually start around 8:30-9:00 AM and go until around 12:00 noon.
We like variety! So whether you're an avid vegetable gardener, have a casual cottage garden, maintain a more formal approach...we love it all. Please let us know via return email if you're interested in participating.
Thanks!
Rebecca and John Mashaw
---
Dear Neighbors:
Thank you for responding to 2014 Arlington Heights Neighborhood Improvements Survey.
This survey provided Arlington Heights Civic Association (AHCA) information needed to prepare an update to AHCA's Neighborhood Conservation Plan. This plan enables us to speak with one voice to county officials about our concerns and changes we would like to see. Completing a plan update also gives us extra credit in the points system used to prioritize funding for neighborhood improvement projects, which totals about $12 million per year for the entire county. Recent improvements include the construction of new sidewalks, curbs, and gutters in several locations around our neighborhood, as well as new streetlights.
---
AHCA's 2014 Calendar of Events:
Tuesday, February 11: AHCA Quarterly Meeting 7:00-9:00 PM
Friday, February 21: First snowdrops of spring appear
Monday, February 24: Wine Tasting Event 7:00 PM
Friday, April 18: Newsletter Content Due
Monday, April 21: Newsletter to Printer
Friday, April 25: Newsletter to Delivery Vols
Saturday, April 26: AHCA 5K 9:00 AM
Tuesday, May 13: AHCA Quarterly Meeting 7:00-9:00 PM
Saturday, May 17: Arlington Neighborhood Day
Saturday, June 7: Garden Tour 8:30 AM
Saturday, June 7: AHCA Spring BBQ 12:00-2:00 PM
Sunday, June 8: BBQ rain date 12:00-2:00 PM
Saturday, June 14: AHCA Community Yard Sale 8:00 AM-12:00 noon
Friday, July 18: Newsletter Content Due
Monday, July 21: Newsletter to Printer
Friday, July 25: Newsletter to Delivery Vols
Wednesday-Sunday, August 6-10: Arlington County Fair
Tuesday, August 12: AHCA Quarterly Meeting 7:00-9:00 PM
Friday, October 17: Newsletter Content Due
Monday, October 20: Newsletter to Printer
Friday, October 24: Newsletter to Delivery Vols
Saturday, October 25: Halloween Parade 3:00-4:30 PM
Sunday, October 26: Parade rain date 3:00-4:30 PM
Wednesday, November 12: AHCA Quarterly Meeting 7:00-9:00 PM (note Wednesday date)
Friday, December 19: Holiday Caroling & Party 7:00 PM
---
Greetings neighbors,

Many thanks to everyone who attended AHCA's 2013 Halloween parade and party!

More than 130 neighbors joined us to celebrate this spooky season, we collected 285 pounds of food for AFAC (Arlington Food Assistance Center) and we added 10 more members to our civic association! What a great day!

Many thanks to our sponsors - Papa John's Pizza and Simplicity Urgent Care - for their generosity! The pizza was delicious and we ate every last piece and the Simplicity donated moon bounces were enjoyed for hours non-stop.

Thanks to the volunteers from AFAC and AFC (Arlington Free Clinic) for joining us to share information about their wonderful community organizations.

Last, but certainly not least, thank you to AHCA Executive Committee members Jeanne Haggerty and Jay Moore for their help coordinating the event today. As for AHCA Secretary Megan Haydasz - our wonderful event today simply would not have happened without all of her hard work and organization - thank you Megan!!!

We hope everyone enjoyed a happy and safe Halloween!
---
Dear Neighbors,

Some of you may have already noticed the good news - the Glebe Road Bridge Project is finally complete! It looks terrific and traffic is running smoothly - or as smoothly as it ever does on a major thoroughfare. :)
---
Recent news:
Sports score: Saturday, May 12 (softball): AHCA Fightin' Pineapples 25, Penrose 24, on a walk-off single in the bottom of the 7th (final) inning
Commonwealth Transportation Board approves the transfer of Columbia Pike to Arlington County
---
Arlington Heights neighbors' recommendations on contractors
Open an account on YourServiceList.org and specify Arlington Heights / 22204
---
Arlington Heights School Guide
See what public schools serve Arlington Heights, and learn about the many good choices available to Arlington Heights parents.
---
Columbia Pike celebrates its 200th anniversary
Read "Columbia Pike: The History of an Early Turnpike" by John Paul Liebertz, Arlington County Historic Preservation Office, April 1, 2010