Dear Neighbors,
AHCA's next quarterly meeting is Tuesday, May 10, at 7 PM at Patrick Henry Elementary School library.
As always, pizza is provided by our friendly neighborhood Papa Johns!
-- Thank you, Molly Calkins, president
Dear Neighbor,

A table of our transportation safety concerns, plus Arlington Transportation Division's responses, is on this document

Please review the concerns and responses, and please send your comments to our our e-mail list by Monday, May 9, 2016

A portion of AHCA's quarterly meeting on Tuesday, May, 10, 2016 @ 7 PM at Patrick Henry Elementary school library will be set aside for soliciting reactions/comments from the neighborhood and suggestions for how we should proceed.

Best Regards, Lisa Turcios
Dear Neighbors,
Our own neighborhood elementary has now received national recognition in addition to recent state awards. Congratulations to the whole Henry community for making this possible.
This just in from WTOP News (from AP):
2 Va. elementary schools earn national distinction
RICHMOND, Va. (AP) -- Two Virginia elementary schools are being recognized for their achievements.
The state Department of Education says Patrick Henry Elementary in Arlington County and High Point Elementary in Washington County have been named as Virginia's two 2014-2015 National Title I Distinguished Schools.
Representatives from the schools will be recognized by the National Association of State Title I Directors during the organization's annual conference in February in Salt Lake City.
Officials say the schools were selected from the 40 high- achieving Title I schools honored by the Virginia Board of Education in October.
Patrick Henry Elementary was selected for exceeding federal annual measurable objectives for two consecutive school years. High Point Elementary was chosen for its efforts to close achievement gaps among student subgroups over two consecutive years.
Dear Members:
On November 18, 2014, we sent a letter to Arlington County Board stating the resolution unanimously approved at our quarterly meeting on Wednesday, November 12, 2014:
WHEREAS Arlington Public Schools is proposing to build a school adjacent to the Thomas Jefferson Middle School, possibly intruding upon Thomas Jefferson Park,
WHEREAS Thomas Jefferson Park is an extremely valuable resource for Arlington and its Arlington Heights neighbors, where our children and families use the park for play and recreation, people walk their dogs, runners jog on its measured half-mile trail, neighborhood volunteers maintain the ornamental garden at the southeast corner of the park, and Thomas Jefferson Middle School students raise food in the park's organic vegetable garden for the Arlington Food Assistance Center,
WHEREAS Arlington Heights Civic Association deems the boundary of Thomas Jefferson Park to be as illustrated in Figure 1, (see Attachment 1)
BE IT RESOLVED THAT Arlington Heights Civic Association opposes Arlington Public Schools building a school, or any facility, that occupies, or infringes upon, any portion of Thomas Jefferson Park.
BE IT RESOLVED THAT Arlington Heights Civic Association strongly supports a comprehensive planning approach to the Thomas Jefferson site. Arlington Heights Civic Association is deeply concerned that building a new elementary school by 2018 on the Thomas Jefferson site would foreclose future improvements of the site.

Sincerely,

Stephen Hughes, President
Arlington Heights Civic Association
---
Click the map of TJ property below to view a larger map.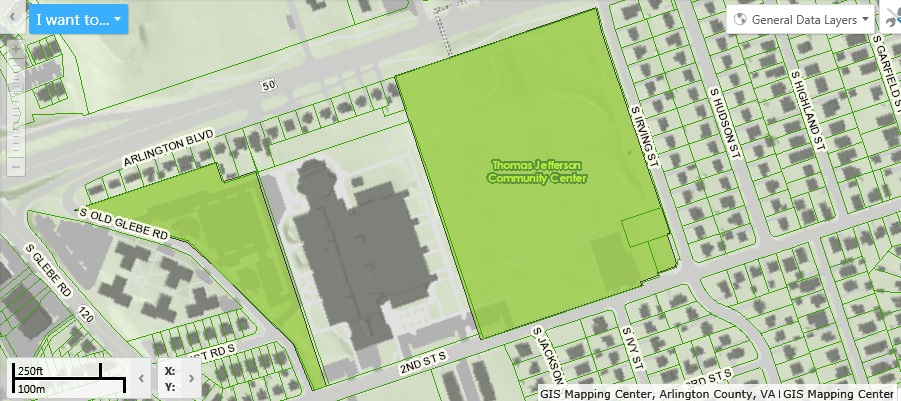 Green areas are owned by Arlington County Board. School area is owned by Arlington Public Schools.
---
Click the map of Patrick Henry Elementary School / Career Center property below to view a larger map.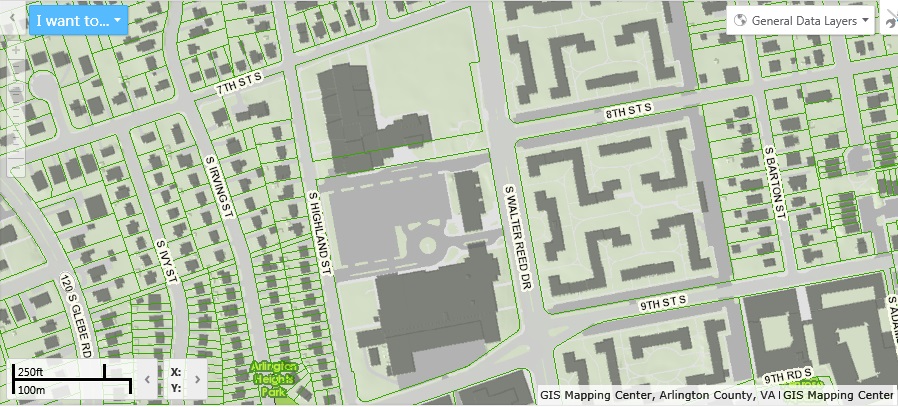 ---
To re-create these maps, open Arlington County Maps, select Parcel Search, and search for Parcel ID 24011037 or 25014010
---
---
Recent news:
Sports score: Saturday, May 12 (softball): AHCA Fightin' Pineapples 25, Penrose 24, on a walk-off single in the bottom of the 7th (final) inning
Commonwealth Transportation Board approves the transfer of Columbia Pike to Arlington County
---
Arlington Heights neighbors' recommendations on contractors
Open an account on YourServiceList.org and specify Arlington Heights / 22204
---
Arlington Heights School Guide
See what public schools serve Arlington Heights, and learn about the many good choices available to Arlington Heights parents.
---
Columbia Pike celebrates its 200th anniversary
Read "Columbia Pike: The History of an Early Turnpike" by John Paul Liebertz, Arlington County Historic Preservation Office, April 1, 2010